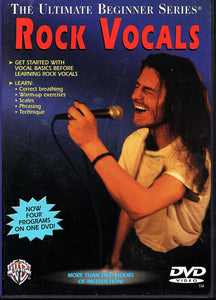 The Ultimate Beginner Series - Rock Vocals (DVD)
Rock Vocals, Step One features Tim Bogert, of Vanilla Fudge and Beck, Bogert and Appice fame. Tim teaches you how to develop your "four voices," what resonance is and how to improve it, practicing to develop technique, the "surprise" breath and more.
There is also a performance band to help illustrate each point. Rock Vocals, Step Two teaches you how to increase your range and endurance, how to blend your voices, how to find your key, effective microphone techniques, how to embellish a phrase, and more.
These voice lessons will help you sing the way rock was meant to be sung!