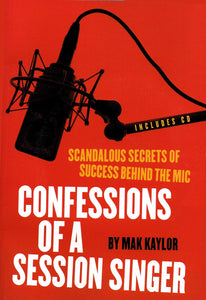 Confessions of a Session Singer (with CD)
Just out of range of the bright lights of the stage, and just outside the glamorous lifestyles of pop stars, another singer lives behind the microphone - the professional session singer.
Confessions of a Session Singer explores this lesser-known world with an entertaining yet informative look into professional studio work from the vantage point of a veteran vocalist.
A career in session singing is accessible to anyone with talent and perserverance, and author Mak Taylor - whose voice has been heard on countless works - shares what he has learned throughout the years. Sprinkled with tips and trade secrets are stories from the real world of the recording professional. Taylor covers all aspects of session singing, from how to communicate with sound engineers and artists to techniques that will help both beginning singers and experienced pros.
'Confessions of a Session Singer' is essential for anyone interested in professional studio work.