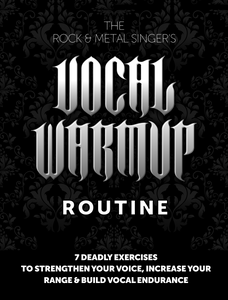 Rock & Metal Singer's Vocal Warm Up Routine MP3 by Jaime Vendera
Vocal coach to the stars Jaime Vendera (Saliva, Disturbed, Alter Bridge, Dream Theater) has done it again and taken the vocal warm-up process to an entirely new level. Following in the footsteps of the Extreme Scream vocal tutorials, Jaime Vendera has created a symphonic warm up routine - just for rock and metal singers - that focuses on vocalizing right along to REAL music in the style of rock and metal songs.
Introducing, Jaime Vendera's Rock & Metal Singer's Vocal Warm Up Routine - 7 deadly vocal warm up exercises that will help you slay any audience!  
This ain't your parents boring old vocal warm up routine! No way! This is a psycho, insane wall-of-sound featuring melodic rock/metal tracks designed not only to get the blood flowing to your vocal cords, but to get the music coursing through your veins and the adrenalin pumping before you ever hit the stage or the vocal booth. NOW, your vocal warm ups will be easy, fun, and will ROCK!
As usual, Jaime will guide you through these vocal warm ups and explain all the basics of his proven, revolutionary vocal techniques - which keep his glass-breaking voice in peak condition...and will do the same for yours, too. You'll also receive a bonus e-book manual to walk you through each lesson + a separate MP3 file with all of the music tracks for you to practice to, on your own, without Jaime's instruction.
In this informative, intense and fun vocal warm up routine, Jaime shows you his most deadly vocal warm-up exercises that will warm up and strengthen your voice in no time. You'll learn:
The Bubble Gargle - The Bubble Gargle is a simple combination of Lip Bubbles and the Gargling Tone exercise - which are covered in Jaime's best-selling book, "Raise Your Voice." When Lip Bubbles are combined with the Gargling Tone exercise, you create two focal points for your tone-your lips and your soft palate. This takes the focus up out of the throat, placed on the palate and lips, which allows you to easily warm up the voice and prepare your singing voice for proper vocal placement.
The Straw Warm Up - This warm up is one of the best ways to quickly warm up the voice because it puts a cap on the amount of breath that can be released because the sound is funneled through a straw and then halted by water. When the water begins to bubble, you've minimized the overload of breath release.
The Pharyngeal Fire Exercise - The pharyngeal voice resides somewhere between full voice and falsetto. Jaime's glass shattering vocal coach, Jim Gillette, once told him that the pharyngeal tone was the key to singing crazy high notes like metal singers from the '80s. He also said that the pharyngeal sound actually lives right between that split-second area where your voice cracks from your full voice into falsetto, and that the key was to master singing in between those two tones, right within that split-second space, when singing in the ultra-high range. This exercise will allow you to sing in that area.
The 5 X 5 Vowel Workout - The 5 X 5 Vowel Workout is a breath building exercise and MORE. With this exercise, Jaime is actually training you for range extension, too. Want to gain more range in your singing? Who doesn't right? Well, this exercise will help you warm up your voice AND help you gain range! 
The Consonant Crusher - This vocal exercise is a real tongue twister, but it is an excellent way to prepare you for real singing. Hang tough, stay in full voice, and watch your voice become stronger!
Double Do Re Mi's - The Double Do Re Mi's follows the basic Do-Re-Mi-Fa-So-La-Ti-Do pattern we all learned in music class as kids. However, we perform our Do-Re-Mi's in a minor key AND we do it twice per pitch. This exercise is another tongue twister but will quickly warm up your voice and prepare you for singing on stage.
The Woah-Yay Wail - The Woah-Yay Wail was added especially for all of you rockers who love to scream, "Woah" or "Yay" on those high notes. What better way to end your warm ups than by vocalizing on a few words that you'll soon be screaming out to your audience! Still, this is not an easy exercise. Stay in full voice and try to make the sound just as cool as it would sound when screaming, "Woah" or "Yay" out at your gig. Once you've mastered this tricky exercise, you'll be ready to rock the stage!
Regardless of whether you sing in a cover band covering Creed to Def Leppard, Ozzy to Fozzy, Led Zeppelin to Lamb of God - or in an original act that performs classic rock or metal - this warm-up routine from vocal coach Jaime Vendera will help strengthen your voice, increase your range, and build up your vocal endurance in no time.  
About Vocal Coach Jaime Vendera:
Jaime Vendera is one of the most sought-after vocal coaches on the planet. Using the methods that he created and perfected in his 25+ year singing career, Jaime turned his two-octave range into six octaves with 120 decibels of raw vocal power. And now, he's showing some of the most famous rock & metal vocalists on the planet how they, too, can strengthen their voices and increase their range.When singers need to add more vocal range, power and projection, maintain their voices, or build up vocal stamina necessary to perform every night, they call Jaime.Ben Thomas of Dweezil Zappa says that Jaime is the 'Mr. Miyagi' of vocal coaches, while Mat Devine of Kill Hannah considers him more of a 'Yoda.' James LaBrie of Dream Theater said, "Because of my lessons with Jaime, my voice is feeling and sounding better than it has in twenty years. I am spot-on every night. He is the Vocal Guru." Myles Kennedy of Alter Bridge said, "One time during a tour, I was so sick I could barely make it through the set. It looked as if we were going to have to cancel the next show. Jaime spent some time giving me some tips that helped me regain my voice. By the next night, I was able to perform the show. He is fantastic! I recommend his books, (products) and his private instruction to ALL singers."Jaime is a world-renowned glass-shattering voice-strengthening specialist. He is not considered a typical voice teacher. He has an unusual approach to vocal training. His training allows a singer to unlock their voice by creating a variety of primal sounds. This allows them to unleash the power of vocal resonance and projection.