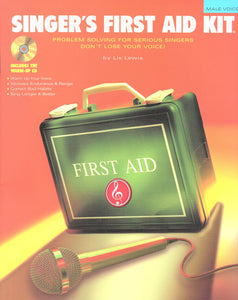 Singer's First Aid Kit - Male Voice (with CD)
The Singer's First Aid Kit - Male Voice Edition book/CD pack by veteran vocal coach Lis Lewis (Steve Miller, Herbie Hancock, Bobby McFerrin, Gwen Stefani) is specifically written and taught with the male voice in mind. 
 This book with companion CD (full of helpful exercises) will help men warm up their voices, increase their endurance and range, correct bad habits, and sing longer and better! 
 It is divided into two sections: The Singer's Troubleshooting Guide covers vocal health, finding the right teacher, practice, auditions, rehearsing, recording and performing, and The Singer's Warm-Up CD features helpful exercises to prepare the voice for serious singing.
Lis Lewis is a voice teacher and performance coach, and has been training recording artists for over 30 years. Lis is the author of the books The Singer's First Aid Kit (Female Voice), The Singer's First Aid Kit (Male Voice) and The Pop Singers Warm-Up Kit --all published by Hal Leonard. In addition to private coaching, she has worked in collaboration with managers, record labels, producers, bands and songwriters in the recording and rehearsal studio to get the best performances from their artists.