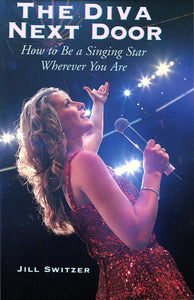 The Diva Next Door - How to Be a Singing Star Wherever You Are
You too can be a singing Diva! If you've ever dreamed of singing on The Voice or grabbing a Grammy Award, The Diva Next Door by Jill Switzer is for you. Switzer's book, designed for everyone from total novice on up, takes a three-step approach: 
how to get physically and mentally in shape for a singing career
how to create and fine-tune an act
how to shine at auditions and to book gigs
The book blends practical information with anecdotes, musical quotes, pep talks, and tips. Sample cover letters, performance agreements, references, and a "diva dictionary" add value.
The Diva Next Door's topics include:
Defining Your Singing Goals
Building your repertoire and fine-tuning your act
Creating a polished, professional look
Succeeding at singing auditions and how to book shows
Getting in Diva shape--physically and mentally
Maximizing your PR exposure and much more!
Ideal for the hundreds of thousands of female applicants to such shows as The Voice, American Idol, X Factor, America's Got Talent, and for everyone who has ever dreamed of being a professional singer.
Written for the complete novice in encouraging girl-to-girl style but packed with information for all levels.
"The Diva Next Door is required reading for every gal pursuing a career as a vocalist. Jill provides an insightful, entertaining, and accurate guide to achieving excellence in the music business."
--Faith Prince, Tony® Award-Winning Singer and Actress