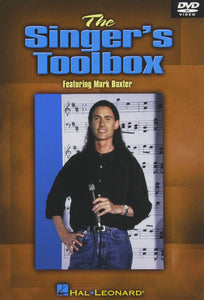 The Singer's Toolbox DVD
Every instrument requires maintenance - including the voice! The Singer's Toolbox DVD video singing lesson is jam-packed with essential information and exercises for any style singer. This video teaches you:

• How your voice works • 4 steps to keep your voice strong • Performance tips (overcoming stage-fright, holding notes, staying in key and more)  • How to repair vocal damage, and much more! No prior training needed, just slip this in your DVD player and learn! 50 minutes.

This video is the perfect companion to Mark's book, "The Rock 'N Roll Singer's Survival Manual."
About Mark Baxter:
Mark Baxter is a regular contributor to Singers Nation, and a professional voice teacher whose clients have included: Steven Tyler (Aerosmith), Gary Cherone (Extreme, Van Halen), Peter Wolf (J. Geils Band), The Mighty Mighty Bosstones and others.