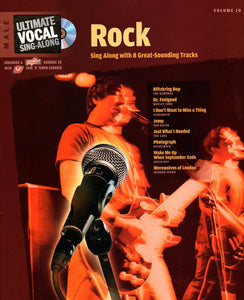 Ultimate Vocal Sing-Along: Rock Volume 10 (with CD)
Alfred's Ultimate Sing-Along books give you everything you need to sing with your favorite songs. Each songbook has the lyrics, music notation, and chords to eight great hits. CD includes 2 versions of each song: a full-performance track, and a professional accompaniment track so you can sing along. 
Titles and artists: Wake Me Up When September Ends (Green Day); Dr. Feelgood (Motley Crue); Jump (Van Halen); Photograph (Nickelback); I Don't Wanna Miss a Thing (Aerosmith); Werewolves of London (Warren Zevon); Blitzkreig Bop (Ramones); Just What I Needed (The Cars).