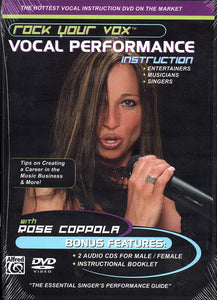 Rock Your Vox Vocal Performance Instruction (DVD)
Designed for singers at every level, Rock Your Vox is a comprehensive instructional DVD and CD set that will benefit even the most advanced singers. If you only purchase one DVD to learn how to sing, this is the one to get! 
Hosted by nationally acclaimed vocal performance instructor Rose Coppola, the Rock Your Vox DVD begins with important information about correct posture and proper breathing. The DVD then moves on to the vocal exercise section which is divided into beginner, intermediate and advanced levels. Rose provides accompaniment on the keyboard and offers encouragement and tips to help you get through each exercise. An instructional booklet is included to help you follow along. The DVD also features a bonus section which includes interviews with several industry professionals and information about some great new products specifically designed for vocalists. 
As an additional bonus, Rock Your Vox comes with two audio CDs that contain all the vocal exercises from the DVD, one for the male voice and one for the female voice (perfect for practicing in your car, in the studio or at home). The exercises are challenging and effective and, with regular practice, singers will greatly increase their range and gain vocal strength. Rock Your Vox works! And, it's an excellent way to become a better singer!