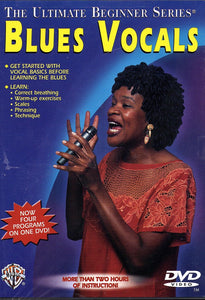 The Ultimate Beginner Series: Blues Vocals (DVD)
On Blues Vocals, Step One you'll learn to develop your blues style and phrasing using the blues scale, the major pentatonic scale and the call and response method of blues phrasing.
In Blues Vocals, Step Two, the traditional and sweeter sounds of the blues and pentatonic scales are explored further, along with blues phrasing. The DVD also features a terrific band to illustrate each point.