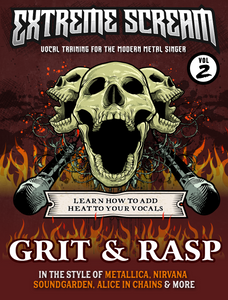 Extreme Scream Volume #2: Learn how to Add Grit & Rasp to Singing & Screaming (MP3)
The most anticipated, most requested vocal training lesson for singers, lead screamers, low growlers and metal heads is finally here!

9 months in the making, this intense 30-minute follow-up lesson to Extreme Scream Volume #1 by legendary vocal coach Jaime Vendera is packed with proven grit/rasp vocal techniques and tips that will show you how to properly apply "heat" to your vocals in the style of Metallica, Nirvana, Soundgarden and Alice in Chains...without damaging your voice.

Back by popular demand for this lesson is Jaime's student Brian Kelly (Severed Chains) who, along with Jaime and his band, will show you how to add these grit & rasp techniques for maximum effect & flavor:

* low grit
* midrange grit
* "GRITALLICA" grit
* smoky/breathy grit
* grunge grit
* nasal grit
* blues growls
* and much more!

As in Extreme Scream Volume #1, this lesson will NOT be teaching you boring vocal scales. Nope.

Instead, you'll be practicing along with Jaime to a kickass metal music soundtrack which makes learning Jaime's vocal techniques fun & easy.

Long considered one of the "holy grail" techniques of singing/screaming, grit can instantly transform a boring "ho hum" vocal performance into "holy sh*t, did you hear that?" performance. And in this amazing lesson, Jaime & Brian break down all the misconceptions about grit & rasp and reveal the fundamental secrets and key ingredients that can help you effectively (and safely) transform your own vocal performances into scorching-hot, chainsaw-ripping, muffler-rumbling, grit masterpieces.

Whether you are a rock singer or a metal screamer, the grit/rasp techniques discussed in this lesson can be applied to any style of music you sing or scream.

"Extreme Scream Volume #2: Grit & Rasp" is a 30 minute downloadable MP3 lesson that comes with a bonus outtakes video and an Extreme Scream II cheat-sheet for quick reference of the secrets to mastering each type of grit & rasp Jaime discusses.
Sound Clips: