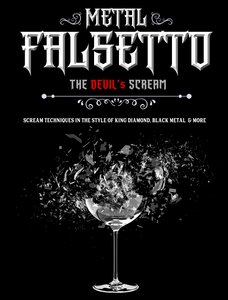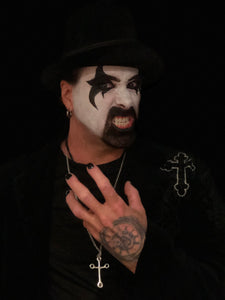 Metal Falsetto: The Devil's Scream by Jaime Vendera (MP3)
In this amazing new vocal screaming lesson, "Metal Falsetto: The Devil's Scream", Vocal Coach Jaime Vendera (Extreme Scream, Raise Your Voice, Metal Vibrato) explores the piercing, hypersonic falsetto vocal techniques of Black-Metal legend, King Diamond as well as other artists, such as Justin Hawkins of the Darkness.
Jaime shows you practical tips on how you can add this metal version of falsetto to your vocals for ear-splitting sonic flair and effect. Plus, he also shows you how to easily transition from falsetto voice to natural voice (without breaking) when hitting those upper-register notes, screams & shrieks - giving your screams an entirely different sound & effect.
Metal Falsetto is the perfect companion to Extreme Scream #3 (to be released in early 2020).
In fact, Jaime highly recommends that his students use the techniques found in both programs in order to consistently reach King Diamond-register screams.
[fields]
VENDOR: JAIME VENDERA
LENGTH: 30 MINUTES
RELEASE DATE: October 31, 2019
FORMAT: DIGITAL DOWNLOAD
[/fields]