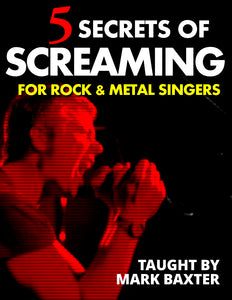 The 5 Secrets of Screaming for Rock & Metal singers and vocalists (MP3)
Do you want to learn how to scream, growl, and wail like the best singers in the world do effortlessly--without damaging your voice? How about add gruffness/huskiness/raspiness to your voice like the most famous rock, metal and R&B/gospel singers do--without smoking a pack of cigarettes a day?
The best singers in the world know how to scream with high range and intensity--and remain pitch perfect. They also know how to turn on their vocal raspiness like flipping a switch. And most importantly, they know what NOT to do to avoid permanently damaging their voices.
So what's their secret?
It's 5 Secrets, actually.
Introducing Mark Baxter's "The 5 Secrets of Screaming (For Male & Female Voice)" vocal exercise & training routine--now available as a convenient MP3 download and only at Getsigned.com.
You can take this 20-minute MP3 singing lesson anywhere you want to use it--at home, at work, in the car or before your next singing gig! Mark has worked with some of the biggest names in the music industry including Steven Tyler (Aerosmith), Scott Weiland (Velvet Revolver), John Rzeznik (Goo Goo Dolls) and he will be right there with YOU teaching you how to scream with power and edge like Chris Cornell, Chester Bennington, Jonathan Davis, James Hetfield, Kurt Cobain, and more!
When used properly, this powerful voice lesson/warm up/exercise routine will help you:

• SCREAM louder and stronger
• STRENGTHEN your singing voice
• GROWL with gruffness and character
• WARM-UP your voice to avoid damaging it
*Use Mark's Secrets of Screaming Routine along with his other popular product, 15-Minute Vocal Warm-Up MP3,  and you'll be singing like a pro in no time!