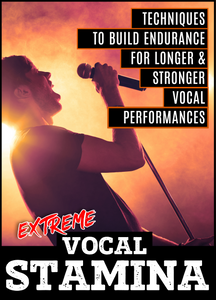 Extreme Vocal Stamina by Jaime Vendera (MP3)
Get ready to sing longer and stronger with vocals that never disappoint you, your band or your audience! Introducing the Extreme Vocal Stamina voice lesson by vocal coach Jaime Vendera (Dream Theater, I Prevail)!
Vocal stamina is the ability to sing for long periods of time while maintaining superb vocal quality. In other words, to  be able to start off great, and end the night (or session) even better - night after night after night, without your voice becoming weak or hoarse. It's the prized possession among singers - the Holy Grail of vocal techniques. Many seek it...few attain it. Until now.
Extreme Vocal Stamina by Jaime Vendera will teach you how it's done by the pros.
If you've ever felt vocally weak by the end of a short live set or a few takes into a recording session, Stamina (or rather, lack thereof), may be your problem. The good news? There's a fix!
In this conversational and informative 1-on-1 vocal lesson, Jaime breaks down the four steps to achieving Extreme Vocal Stamina, gets you on a daily routine to achieving your goals, and even dispels a few long-held voice myths! You'll learn how to condition your mind, body AND voice to achieve vocal stamina in a way that's challenging yet fun.
But, vocal stamina isn't just learned, it's earned! As in all of Jaime's voice lessons, you'll be expected to put these techniques & teachings into practice every day to build up your stamina. This is what separates good singers from amazing singers...are you up for the challenge? Do you want to take your vocals to new heights?

Alright, then. As Jaime says, "Let's get started!!!!"

[fields]
VENDOR: JAIME VENDERA
LENGTH: 28 MINUTES
RELEASE DATE: May 13, 2019
FORMAT: DIGITAL DOWNLOAD
[/fields]