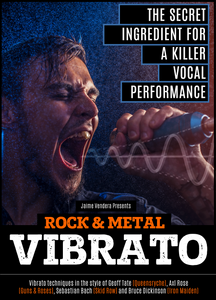 Rock & Metal Vocal Vibrato by Jaime Vendera (MP3)
Welcome to the latest Extreme Scream MP3 vocal lesson,
Metal Vibrato
, where you'll learn how to add powerfully fluctuating, elongated notes to your songs for dramatic flair & powerful effect--just like legendary metal singers like
Rob Halford
(
Judas Priest
),
Axl Rose
(
Guns & Roses
),
Serj Tankian
(
System of a Down
),
Geoff Tate
(
Queensryche
),
Bruce Dickinson
(
Iron Maiden
),
Sebastian Bach
(
Skid Row
) and a slew of other metal vocal masters do. 
In this exciting new lesson, master vocal coach to the Metal gods, Jaime Vendera, is going to teach you a combination of top secret metal vibrato techniques including four types of vibrato-
pitch, jaw, larynx, and stomach vibrato.
Range and power, although super important, will only get you so far. If you want to really stand out from other singers, you MUST master voice vibrato - and in this lesson, Jaime will show you how to master it!
Pssssst- While the focus is metal, this lesson works for ALL music styles, from pop to country to R&B....but as with all Extreme Scream lessons, we're going to set your vibrato exercises to kicking' Rock & Metal backing tracks to make learning vibrato fun and easy. This 'aint your typical rock vocal lesson. Not even close!
It's time to separate your metal screams and wails from all other singers by becoming a metal vibrato master. Own your voice and own the stage today with the Rock & Metal Vocal Vibrato lesson! [fields]
VENDOR: JAIME VENDERA
LENGTH: 45 MINUTES
RELEASE DATE: April 8, 2019
FORMAT: DIGITAL DOWNLOAD
[/fields]